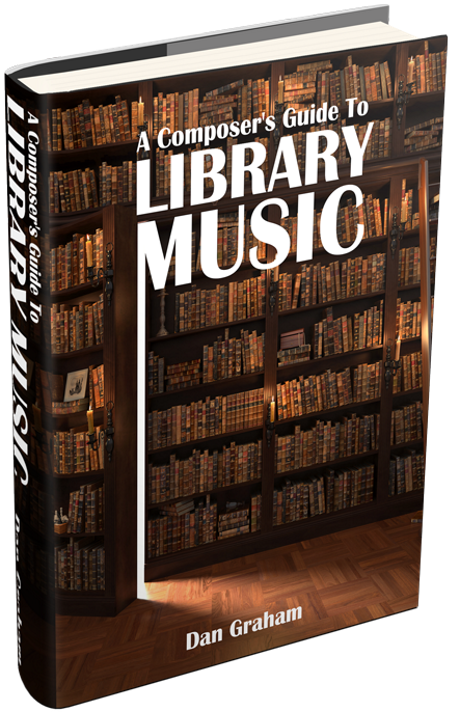 A Composer's Guide to Library Music
Library music (aka production music) is music made for TV, movie trailers and advertising with royalties earned when a track is chosen and again when the show or advert is broadcast or streamed. Established library composer and publisher Dan Graham explains how the industry works and how to build a reliable long term career.
Buy Now
How to Find good work

Invaluable insider tips on how to discover the most successful library publishers and approach them with the best chance of success.

Understand the money

Detailed explanation of where your royalty income comes from, how much, when it will arrive and how to build a reliable long term career.

Be a great library composer

Tips on how make lots of great library music and build good relationships with publishers.
Quick View
Chapters included
Quick Start & Sending Out Your Demos

Overview of library music
10 year get-rich-slow plan
How to find and approach publishers

Making Good Library Music

Tips for high quality productions
Special requirements of library music
Good titles and popular genres

Being Productive & Professional

How to be popular with publishers
Tips for staying motivated
How to be productive

Your Library Music Money

How much money you can earn and when it will arrive
How money is generated and distributed
The key players: TV companies, rights societies and publishers

Library Music Business Models

What to expect from large, medium and small publishers
Royalty free libraries & new business models
Contract terminology explained

Meet The Clients

Interviews with TV and movie trailer editor clients
Why clients want library music
What they want from your music

Meet The Publisher

Interviews with major and independent library publishers
What they are looking for in your music
Questions from composers to library publishers answered

Networking

How networking benefits your career
Societies and social media groups to join
Annual events calendar for library composers

Hollywood Trailer Music

Detailed history and summary of the business
Interviews with LA trailer editors and successful composers
What they are looking for in your music

Composing Trailer Music

What good trailer music needs and how to write it
Interview with trailer sound design star Alessandro Camnasio
Epic music income from outside trailers

What Could Possibly Go Wrong?

Scams, mistakes and legal pitfalls to avoid
True life tales of woe to learn from
What you need to do to avoid trouble

A Dictionary Of Library Music

A-Z definitions of baffling library music terminology
Works as brief summary of the rest of the book
Impress your friends by casually mentioning buttons, needledrops & stings.

Recommended Reading

Recommended media & library composing guides
Recommended composition, mixing and mastering guides
Generally helpful books for your career
What people are saying
testimonials
'Finally a comprehensive book about the inscrutable world of library music – or Production Music as I prefer to call it! Dan takes an independent and impartial look at all the varying approaches and models and leaves it to the reader to decide which best suits them, and this is as it should be.'

'Tons of valuable information on just about every aspect of the business - all gathered intelligently and explained thoughtfully.'

'I don't know a better, more well informed book on the subject of making a living from writing library music, particularly for trailers. There's so much confusion out there and this book cuts through it all! Full of actionable advice, it's a godsend for any composer. It can help you avoid costly mistakes and focus in on where the real opportunities for success lie.'

'A Composer's Guide To Library Music - this title and valuable guide perfectly sums up the building blocks and how to assemble them in order to succeed in making a living as a Library Music composer. It brings to life in-depth advice from industry professionals, covers production tips, the business, networking and composing trends to name a few of the gems. The book is not only an excellent source of information but also offers valuable guidance to making the right decisions in the fast paced and competitive world of Library Music. I highly recommend this book!'

'Clear, insightful and entertaining. If I had a time machine, I would send it back to my past self: a guide like this would have certainly come in handy.'

'Dan's book is a fantastic resource for anyone with an interest in library music. It's full of information and insight taken from his own career and those of other working professionals, and the novice and expert alike will surely find many things of use in these pages.'

'Dan's book is basically a full education in all things music licensing for any composer looking to fully understand the industry. From the business and productivity to creativity and networking, all aspects of the industry are covered in great detail. Real advice from real composers doing the work is a priceless bonus. It's the perfect launching pad to begin or further propel anyone's career!'

'Very informative...having been in the production library industry for almost 20 years and having witnessed the changes brought about by the internet and the 'race to the bottom', this invaluable resource more than confirms many of the pitfalls to avoid and helps to lay out a path to success.'

'Dan Graham's book demystifies the world of library music, giving an excellent overview of this expanding industry and is an essential read for anyone looking to write music for media.'
The Composer's Guide to Library Music
The definitive guide to finding work in the industry, understanding where the money comes from, writing great music, building long lasting relationships with publishers and much more.
Buy Now